Wholesalers deal with large quantities of stock, meaning their needs are distinct from those of retailers – and that precise inventory management on a large scale plays a central role in their business' success. Wholesale management system free allows businesses to manage their inventory, pricing policy, customers, multi-dimensional reports, and sales processes: all in one place. It gives businesses real-time visibility into their sales data, enabling them to make informed decisions and optimize their operations.
Wholesale Inventory Management System in Real-time
Why is efficient warehouse management important?
Fundamental to any wholesaling business is effective inventory control. Wholesalers generally hold significantly more stock than their retail customers; a large amount of investment and cash flow is tied up in that inventory stock. That means managing inventory well is crucial to the overall success of a wholesale business – from storage to shipping to customer service and stakeholder management.
Wholesale business warehouses must have effective inventory software solutions because supplying to your customers on time via multiple channels can be challenging. An efficient wholesale inventory management software records all product data and its location in the warehouse and easy access to products and improves pick-and-pack routes – reducing the time spent searching for items.
Tip:
Allow you to manage multiple warehouses. Track inventory movement, verify physical stocks, and easily adjust stock with Wholesale Inventory management software free.
Manage Warehouse Effectively in Wholesale Management System Free
The warehouse management system in wholesale software provides real-time visibility and analytics on inventory levels and costs. It automates inventory management processes, such as planning, purchasing, sales, and tracking. It helps a business better align inventory levels, optimize inventory carrying costs, and mitigate internal and external inventory-related risks.
Track stock levels and monitor stock movement in real-time.
Ability to track product expiry and plan purchases accordingly.
Easily manage product stock-keeping unit (SKU) with Free Inventory Software with a barcode scanner.
Classify inventory by packaging, description, group, variant (color, size, material), etc.
Allows to divide each area in the warehouse to manage each type of goods/group of goods.
Keep track of products that require temperature-controlled environments. (Air-conditioned, Refrigerated, Cold-storage)
Monitor temperature and humidity indicators in shelf/area locations of the warehouse.
Your staff can easily access the quantity, type, and location of stocks that customers are looking for. You will know where the stocks are, no matter if they are in the warehouse or other stores.
Quickly import Products and Beginning Inventory using Excel spreadsheets.
Monitor and manage inventory with a variety of 1D and 2D barcodes. Print barcode labels.
Accurate inventory management with expiry control and physical stock auditing to ensure optimum stock availability.
Transfer goods between Warehouses/Stores.
Moving inventory from one store to another is easy through Wholesale management system free.
Monitor inventory information at the chain, store, and item levels.
Receive automatic Minimum Stock/Temperature and Humidity/Expiration Date alerts.
Support multiple warehouses for wholesale stores based on location and convenience.
View detailed reports of all Import–Export–Inventory activities in real time of all Warehouses/Stores at the same time to have a detailed view of each warehouse location as well as the whole chain of stores for effective business planning.
Tip:
Discover how to secure control of your wholesale inventory management system.
Learn more about Free Inventory Management Software

Track inventory costs
Wholesale Management Software follows FIFO principles, which allows your business to accurately determine the cost of goods sold and effectively measure profits.
Get a detailed overview of your inventory with a list of all the items and variants you have in stock, their inventory and potential profit values.
Gives you an understanding of the total cost of the inventory and potential profits from their sale. You can see the up-to-date 'Inventory Detail'. You can filter this information by categories or stores (if you have multiple stores).
Tip:
The Warehouse Management System is the backbone of running wholesale stores. Sivib POS Software ensures that you have smooth Wholesale inventory management. It is easy to manage products, serial numbers, and check stock reports.
Learn more about Multi-Store Management Software free for multiple stores
Batch or serial track products your wholesale business distributes
Batch and serial tracking – enables a wholesale business to trace batch lots, serial numbers, and expiry dates. It's particularly valuable for wholesale business management in the food & beverage industry, which often deals with perishable goods with short expiry dates and limited shelf life.
Quickly view a list of all the perishable items and their expiration dates. Check the respective suppliers for each product, and adjust your purchases based on how long before they go bad.
Batch tracking enables wholesale businesses to track product lots along the supply chain – from manufacturer to distributor and retailer and then to customer. Inventory management software provides accurate, detailed, real-time data, visibility, and transparency – which will optimise batch-tracking activities and help reduce or eliminate product errors.
In the unfortunate event of a defect in your product, you'll also be able to identify the specific batches that require recall.
Tip:
Manage real-time inventory, expiry schedules, fast-selling & slow-selling stocks, and damaged stock with Wholesale Inventory Management Software.
Notifications on Stock Levels
Track and allow managers to set minimum and maximum quantities to have in each store.
Increase and decrease stock levels for items and inventory counts.
Receive automatic Minimum Stock/Temperature and Humidity/Expiration Date alerts. (SMS and Email Alerts)
You can save these notifications as an Excel, PDF, CSV, image file or print them out.
Tip:
Using SMS and Email Alerts helps Wholesalers save time, lower operating costs, and gain better control over their sales process.

Monitor and update temperature and humidity indicators in Warehouse Management
Temperature and humidity monitoring are the two principle fundamentals of an environmental monitoring system. A proactive measure would be a permanent monitoring system that includes data logging, reporting, most importantly, instant alerts. Real-time monitoring and alerts are crucial, especially when the temperature or humidity inside your warehouse goes outside of the prescribed parameters. These alerts can be via email, SMS, voice phone calls, and digital alarms to third-party systems and monitoring platforms.

Sivib POS Software supports two solutions to update the temperature and humidity indicators from the thermo-hygrometers as follows: Manual update and Automatic update.
Learn more about Temperature and Humidity Monitoring in Free Inventory Management Software
Free Wholesale Software With Barcode Scanner
Free Barcode Generator
Wholesalers need barcodes/QR codes to give unique identities to their products. Using the barcodes/QR codes will help you manage products, sales, and inventory without facing hassles.
Free wholesale inventory management software comes with built-in barcode and QR code capabilities, making scanning, tracking, and managing your inventory easy.
The barcode generation feature allows for creating customized codes for them; you can automate the barcode generation process and assign the barcodes to the products to track them efficiently. Free Barcode Inventory Software makes barcode management easier for your inventory management without using an external service.
The label can contain the item's name, SKU, retail price, wholesale price, and barcode.
Shorten the inventory checking routine with quick and easy barcode scanning.
Wholesale Management System Free supports the following barcode types
With so many 1D products, 1D industrial, and 2D barcode types: UPC-A, UPC-E, EAN-8, EAN-13, UPC_EAN_EXTENSION, Code 39, Code 93, Code 128, IMB, ITF, Codabar, MSI, RSS-14 (all variants), RSS-Expanded, QR Code, Data Matrix, Aztec and PDF-417, MaxiCode, PLESSEY.
See more about What is a barcode and how many barcode types are there?
Printing Labels
Print barcode labels to have quick and accurate management of your products.
Choose if you would like an item's name and price to appear on the label.
Specify the number of barcode labels that you would like to be printed.
Select from several label size options.
Price List Management in Wholesale Management System Free
Establish your wholesale business pricing strategy
A robust pricing strategy is crucial to creating a profitable wholesale business and should factor in cost, wholesale price, and recommended retail.
Selecting the right price in wholesale business management is about maintaining a balance between sales volumes and profitability.
Support many different prices for different zones, for different customers, for different currencies, etc. An Item can have multiple prices based on customer, currency, region, shipping cost, etc.
Tip:
Wholesale Management System Free supports many different pricing policies and allows the creation of other promotions and discounts.
Creating and managing Quotation price-lists
Time-based pricing strategies
Customer-based pricing strategies
Location-based pricing strategies
Events-based pricing strategies
Combining pricing strategies.
Learn more about Quotation price – Price list management software free for your business
Wholesale Price
It's very important to determine the price that you will sell your products precisely. Set up an automatic profit percentage that will be applied to all your products, and define individual sale prices for products in particular. You can also choose whether allow price changes during the checkout process.
Set either fixed or manually entered prices at a specific unit of measurement.
Set different quotation price lists for the items in different stores.
Support running multiple price lists for a product in parallel.
Support running multiple prices for each unit of a product in parallel (price based on quantity)
Manage and change pricing policies, coupons/gift cards, and promotions in real-time.
Tip:
Pricing is important to wholesalers. Free wholesale software supports running multiple price lists for a product in parallel.

Learn more about Best free POS Billing Software in Sivib POS Software
Learn more about Sell online on eCommerce website integrated with offline store
Sales Promotion Programs for Wholesale Stores
Build targeted sales promotion campaigns to increase customer engagement and sales.
Free sales promotion tool supports virtually any promotional campaign. Quickly create many sales promotion types to generate new growing your business.
Create sales promotion policies exclusively for customers in your loyalty program, or simply promote inventory you need to get off your shelves.
Through reports, you can learn which of the inventory items are showing few sales and which products are going to expire. A sales promotion program helps you run discounts and offers for those products.
Wholesale management system free takes care of your business in every possible way.
Tip:
Manage and change Sales promotions, gift cards/coupons, and discounts in real-time.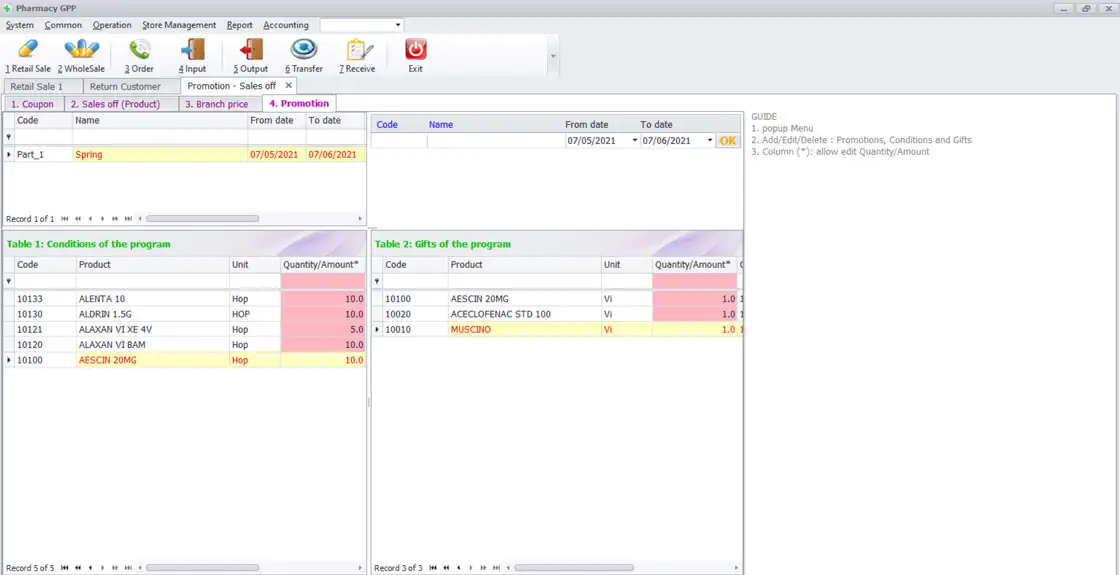 Set up Sales Promotion Campaigns in Best Wholesale Management Software
Sales Promotion Management for specific store

Sales Promotion Management for specific customer group

Apply Sales Promotion Programs for specific products and product categories

Create Discount Sales Promotions for your business

Using Gift Cards for Wholesale Stores.
Learn more about Free Sales Promotion Program Management
Manage Customers in Wholesale Management System Free
You can easily set up a customer loyalty program, view the loyalty points of customers, add information about the customer, view the customer's purchase history, send promotional messages to the customer, check the customer's outstanding dues, and more.
​Centralized Customer Information: all your customer information is in one centralized location, making it easily accessible in the back office or right from the POS so that you can access and manage your customer's data from anywhere.
Tip:
Best Free Wholesale Management Software – Engage Customers, Drive Loyalty, Scale and Grow Your Business.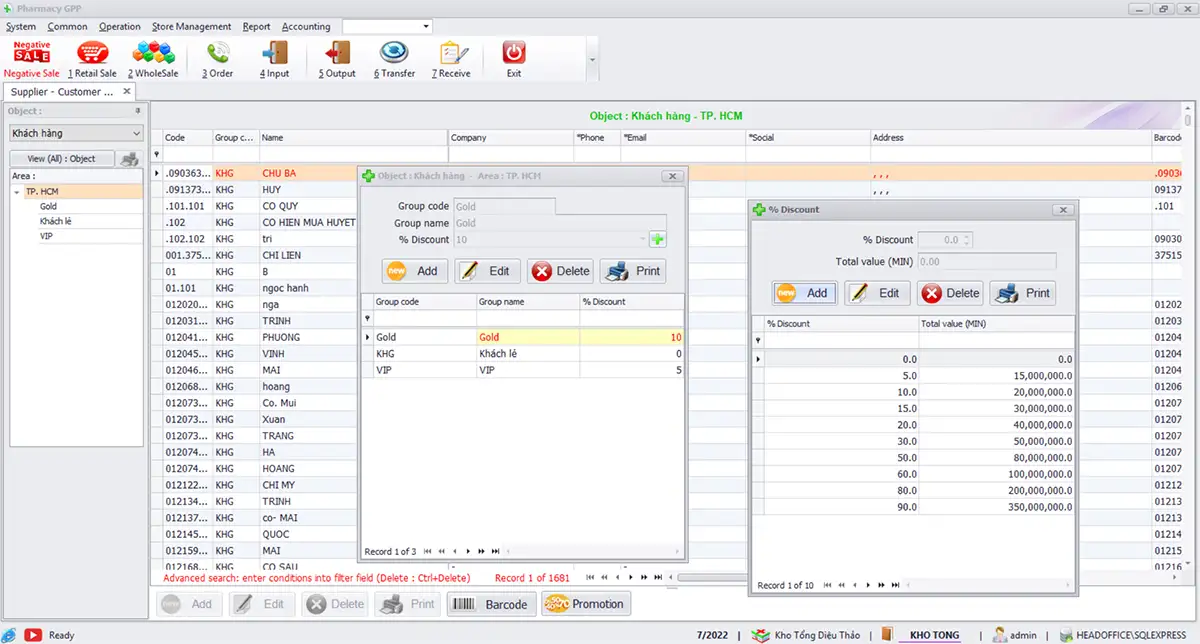 Managing Customer Debt and Revenue with Free Wholesale Software
Allow you to keep track of the debt and revenue owed by your customers, making it easier for you to manage your accounts receivable, manage your finances effectively and make informed business decisions. The Wholesale management system free also provides you with reminders and alerts when payments are due, ensuring that you never miss a payment.
Drive Loyalty Though Membership – Customer Grouping
With the Customer relationship management and Loyalty program in Wholesale Management System Free, you can organize your customers into groups and sub-groups: VIPs, friends & family, loyalty members, wholesalers, or others you want to segment them.
Creating discounts for each group of Customers can set up additional discount requirements according to the order value.
Filter reports by customer group. Use customer groups to give you more insight into your sales. Do different customer groups buy different product sets?
Tip:
Manage your loyalty points and membership cards with ease with best wholesale distribution software.
Customer History
View customer purchase history to provide personalized service.
See the database of your customers from all outlets across your store chain.
Check customers' balances, the history of their purchases, the total amount spent, current loyalty point balance, total rewards redeemed, and notes on their preferences.
Strategic Analysis and Planning
Each client will have a complete and detailed chronological list of transactions. That's an excellent opportunity to get in touch with them, letting them know about the promotion you've been preparing for items that may interest them!
Use CRM tool and Customer Loyalty Program in Wholesale Management System Free to capture and organize customer data.
This enables customer outreach, like pick-up calls and emailed receipts, and provides your marketing team with valuable information, allowing you to communicate better with your customers.
Tip:
Stay more connected with your customers with SMS and Email Notifications.
Learn more about Customer Management Software Free and Loyalty program
Reporting Analytics Tools in Wholesale Management System Free
Reporting and analytics tool provides detailed information about purchases – transfers – sales transactions, inventory levels, and customer behavior.
Access reports instantly online, which are kept up-to-date in real time.
Access your reports from a smartphone, tablet or computer anytime, anywhere.
Analyze reports in multiple dimensions: By sales order, by customer, by employee, by session/shift, by product, by supplier, etc.
Support reporting in different views.
View complete sales – purchases – transfers – returns history.
View important parameters, such as gross sales, net sales, gross profit, debt, cost, etc.
Centralized reporting for multiple locations. View the report for one particular store or the whole chain.
Export these reports to an Excel spreadsheet, PDF, CSV, image, or print them out.
Tip:
Free Wholesale Software – Access Reports and Data From Anytime – Anywhere.
7 Report types of Reporting analytics tools for wholesale businesses
Sales Reports
Inventory Reports
Customer Reports
Employee Reports
Vendor Reports
Payment Report
Marketing and Promotion Reports.
Learn more about Reporting and analytics tool free
Using SMS & Email Alerts

in Wholesale Management System Free
SMS and Email Notifications for Customers
SMS and Email are important communication mediums in the present business market. Customers can be informed about different transaction details to have better clarity. Use SMS and Email Alerts business booster; Wholesale businesses can remain more connected with their customers by sending information about promotions, offers, festivals, birthdays, and schemes via SMS and Email.
Wholesale Management System Free has a real-time business monitoring tool to notify/send critical business information via SMS or Email. This helps Wholesalers save time and gain better control over their sales and customer care process.
SMS and Email Alerts in Inventory Management System
Real-time monitoring and alerts are crucial, especially when the temperature or humidity inside your warehouse goes outside of the prescribed parameters. These alerts can be via email, SMS, voice phone calls, and digital alarms to third-party systems and monitoring platforms.
Wholesale Management System Free has a real-time temperature and humidity monitoring tool to notify/send critical environment information via SMS or Email.
Tip:
SMS/Email your way to success… Improve customer relationships, effective warehouse management, lower operating costs.
Manage your business remotely
Sivib POS Software helps you to manage your business from anywhere with the help of a smartphone or tablet: track sales, stock, purchases and all the business activities in real-time.
Learn more about Manage your remote business
Learn more about POS integration API in Sivib POS Software

Wholesale Management System Free in Sivib POS Software
Our solution provides all of the tools that you need to run a successful retail and wholesale chain.
Get Started
Step-by-step Guide to using Sivib POS Software Free (Basic)

Establishing and using SMS and Email Notifications in Sivib POS Software Free

View detailed reports of all Import–Export–Inventory activities in Reporting and Analytics Tools

If you have any questions about Wholesale Management System Free or suggestions for improvement to existing features. Let us know in the comment below!