Sivib POS Software supports you to manage your business from anywhere with the help of a smartphone/tablet/laptop. It has provided you with an easy and convenient way to manage your business remotely. With the Remote business management tool, you can access all your business information, track sales, manage stock levels, manage purchases, analyze sales performance, and report from anywhere in real-time.
Track Sales
The real-time data provided by Sivib POS Software is a critical factor in remote business management. One of the key features of Remote business management tool is the ability to track sales in real-time. This means that you can see exactly how much you are selling at any given moment, as well as which products are selling the most: Sales per product category, sales per item, sales per customer, sales volume per day or month, sales in peak hours, etc. This information can be incredibly valuable when making decisions about which products to stock, how much inventory to keep on hand, and when to order new supplies.
Tip:
Track the sales growth or decline compared with the previous day, week, or month, and promptly react to changes.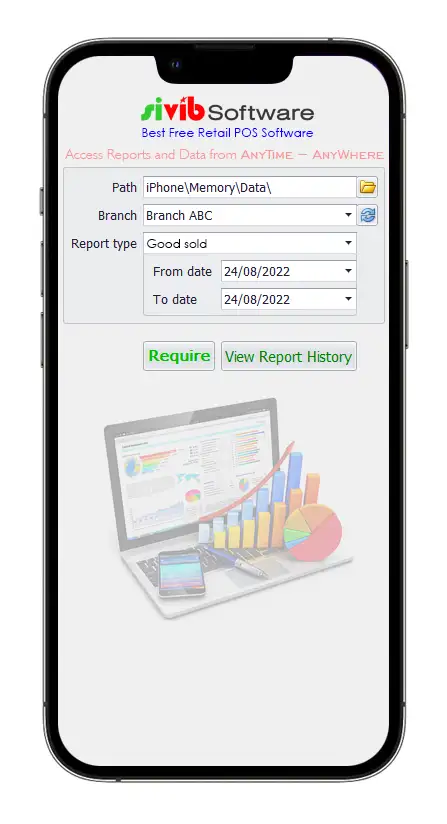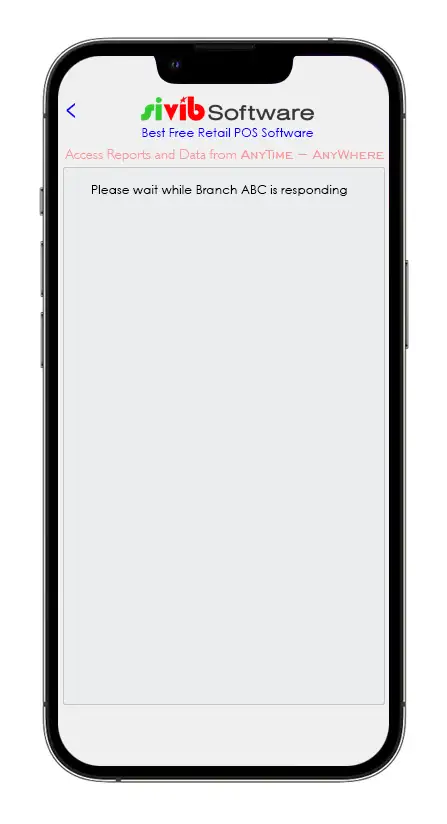 Manage Stock Levels With Remote Business Management Tool
Another important feature of Remote business management tool is the ability to manage stock levels. You can keep track of how much stock you have on hand, and when you need to reorder supplies. This information can be especially useful for businesses that sell perishable goods, as they can track the expiration dates of products and avoid waste.
View reports of all inventory activities in real time of all Warehouses at the same time to have a detailed view of each warehouse location as well as the whole chain of stores for effective business planning
Tip:
Sivib POS Software allows you to track multiple warehouses in real-time: stock levels, stock movement, and damaged stock.
Tracking Employee Productivity
Track the employees' performance across all of your chain stores. Check employee-wise sales data to set performance benchmarks and analyze the most promising employees. This information is essential because it can help you track your employees' productivity and see if they are meeting their goals.
Tip:
Keep track of which employees process each order and perform various inventory-related actions, etc.
Analyze Customer Data
Track the database of your customers from all outlets across your chain stores from anywhere.
You can analyze customer data: customers' balances, the history of their purchases, the total amount spent, current loyalty point balance, total rewards redeemed, notes on their preferences, etc., to better understand purchasing patterns and preferences. This information is essential because it can help you build relationships with your customers and better understand their needs.
Keep track of the debt and revenue your customers owe, making it easier to manage your accounts receivable and finances effectively.
Tip:
Track customer purchases and see what products they are interested in, which can help you make informed decisions about future promotions and sales.
Track Purchase Order Status
You can keep track of what you are buying, how much you are paying for it, and when you are due to receive it. This information can help you to ensure that you are always fully stocked with the products that you need. Additionally, you can monitor the cost of goods sold, allowing you to make informed decisions about your purchasing processes and reduce your costs.
Tip:
Sivib POS Software helps to track your suppliers and their special pricing to make smarter purchase decisions.
Manage your remote businesses in Sivib POS Software
Our solution provides all of the tools that you need to run a successful retail and wholesale chain.

Get Started
If you have any questions about Manage Your Remote Businesses or suggestions for improvement to existing features. Let us know in the comment below!