An intuitive Free Product Management Software easily creates a catalog of the products you sell at your stores, adding all their info: description, barcode, picture, cost and sales price, stock level, tax fees, promotional prices, and more.
Centralized product catalog
Product data is the heart of your stores – so ensure it's accurate and organized by controlling it from one source.
Sivib POS Software – Free Product Management Software maintains a single, centralized catalog for SKUs across all your stores and sales channels. You also have the flexibility of different pricing per store.
Need to change product information? Update your single system of record on the Sivib POS Software System and watch as every other source updates automatically.
Tip:
Quickly find products by name, code, barcode, or description with the built-in search function.
Sales Price
It's very important to precisely determine the price that you will sell your products. Set up an automatic profit percentage that will be applied to all your products, and also define individual sale prices for products in particular. You can also choose whether you will allow price change during the checkout process.
Set either fixed or manually entered prices at a specific unit of measurement.
Set different prices for the items in different stores.
Multiple price lists for a product in parallel (Wholesale price, retail price, price of dose (Pharmacy), promotional price, branch price, best price, price by quantity, etc.)
Purchase Price
Update Purchase Pricing from Purchase Invoices.
Update Sales Prices from Purchase Invoices: You can make sure that the latest Sales prices are populated in future transactions.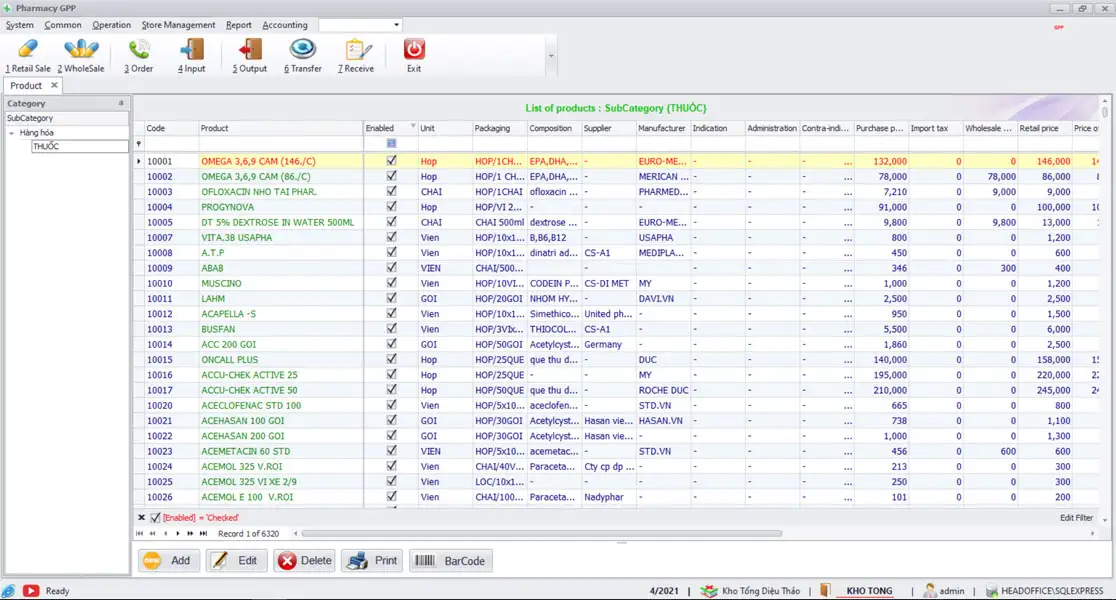 Key Features of Free Product Management Software and Pricing Policy
Quickly import Products using Excel spreadsheets or from other sources.
Plan product portfolio by group and variant (color, size, material, etc.)
Specify the category that items will appear under in different stores.
Monitor the quantity of each item in each store.
Assign multiple units of measurements for each Product.
Support running multiple price lists for a product in parallel (Wholesale price, retail price, price of dose (Pharmacy), promotional price, branch price, best price, price by quantity, etc.)
Assign multiple price for each unit of a product in parallel (price based on quantity)
Manage and change pricing policies, coupons/gift cards, and promotions in real-time.
Customize items by picture, price by unit or weight, and create composite items, variants, and modifiers.
Generate and Print Barcode Labels
Barcode Management
Wholesalers and Retailers need barcodes to give unique identities to the products. Using the barcodes will help you manage products, sales, and inventory without facing hassles.
Sivib POS Software offers a barcode generation feature that allows creating customized codes for them; you can automate the barcode generation process and assign the barcodes to the products to track them efficiently. Sivib POS Software makes barcode management easier for retailers without having to use an external service.
The label can contain the item's name, SKU, retail price, wholesale price, and barcode.
Shorten the inventory checking routine with quick and easy barcode scanning.
Printing labels
Print barcode labels to have quick and accurate management of your products.
Choose if you would like an item's name and price to appear on the label.
Specify the number of barcode labels that you would like to be printed.
Select from several label size options.
Support the following barcode types
With so many 1D product, 1D industrial and 2D barcode types:
UPC-A, UPC-E, EAN-8, EAN-13, UPC_EAN_EXTENSION, Code 39, Code 93, Code 128, IMB, ITF, Codabar, MSI, RSS-14 (all variants), RSS-Expanded, QR Code, Data Matrix, Aztec and PDF-417, MaxiCode, PLESSEY.
Tip: If you need to print barcode labels for some products from other sources, follow these steps:
1/ Common menu: Select Product
2/ At free Product management software screen: Press Ctrl + B
3/ Select the Excel file (see file: ProductTemplate.xlsx)
Note:
– Position of columns must be fixed
– Data columns must be complete
4/ Select the Barcode type and customize the information to print
Best free POS Billing Software for Wholesalers and Retailers
Our solution provides all of the tools that you need to run a successful retail and wholesale chain.
Get Started
How to use a Free Product Management Software (Advanced) | Best Free POS Software