Each wholesale or retail store operating today needs to have a POS billing machine software that is both straightforward and feature-rich. Free Sivib POS Billing Software enables wholesalers and retailers to quickly create bills and scale their operations to accommodate increasing numbers of consumers.
Users only need to scan barcodes; the rest of the necessary functions are automatically performed by the Sivib POS Billing Software in accordance with the type of product being sold. It is simple to set up separate cash registers and terminals for speedy billing, thanks to the fact that practically all of the significant POS devices are supported by the software.
With seamless integration of options promotions, discounts, gift cards, coupons, and loyalty programs along with salesperson incentives and the Sivib booster tool for SMS & Email notifications, the entire retail and wholesale supply chain cycle becomes simple to operate, enabling you to sell more and increase revenue consistently.
11 Key Features

of Best Free POS Billing Software
Let's explore about 11 must-have core features of Sivib POS Billing Software free needed for Wholesale and Retail Stores:
User Interface: Easy to use by everyone
Sivib Point of Sale – POS Billing Software free: A simple, intuitive and easy-to-understand user interface makes it easy for any user to do sales and billing without any specific training/knowledge. New sales staff can easily get used to the software.
Tip
At the sales screen in Free POS billing software: the cashier can access to view stock of different stores and give information to the customers.
The strictly controlled payment process
Take control of your payment workflows.
Cash funds at stores are in control.
Check all the cash flow into and out of the cash drawer.
Multiple payment methods (Cash, Bank, Rewards Points, integrated or any combination of them).
New types of payment methods can be added as well.
Manage invoices/receipts as soon as transactions are completed.
Customers can choose to have a printed receipt and/or a digital one via SMS and email.
Displays the amount and changes so the proper amount to the customer can be returned.
See all the history of any payins/payouts with the employee identifier.
Help you keep track of who has paid and who hasn't, as well as when payments were made.
Keep an eye on the status of all your sales orders, and maintain a permanent record.
Tip:
Add QR codes in the customers' bills and invoices you send to your customers.
Fast checkout process
Easy keyboard shortcuts for payments. Reduce the task of cashiers and make the transaction faster.
Easily find your items on the customizable sale screen.
Add products to customers' bills and invoices by barcode scanner, built-in device camera, or voice*.
Multi-currency: Make transactions in any currency from your store.
Set up as many cash machines/cash registers in your store as you need – all the data will be synced between them.
Parallel processing of multiple orders with a clear interface. The cashier can pause this payment while continuing with another.
Easily choose the payment method, apply gift cards/coupons – discounts – promotions, add taxes – fees, pay with reward points, adjust the total, make notes to the items or the receipt, and print out the receipt.
Best Free POS Billing Software with loyalty programs is flexible enough that a customer can get its points redeemed from any of your stores.
Monitor and edit the open orders' info, such as the delivery address, the payment method, and the customer's info.
Learn more about Sell online on your eCommerce website integrated with Sivib POS Software
Tip:
Quickly find products by name, code, barcode, or description with the built-in search function.
Repeat Previous Orders
Repeat any of customer's previous orders quickly and easily.
Save customers time and provide convenience by allowing them to quickly reorder their favourite products again.
In the Selected Products area: Right click mouse button / Choose one from the following:

Read from Interim bill
Read from Guest requirement
Read from Order
Read from Old bill
Read from Order form template

Find and view your customer's previous orders.
Then double-click the selected order.
If the product is out-of-stock, it will display a message regarding that.
Add products as you would normally, change the quantities or remove products.
You will then need to continue through the checkout process, as usual.
Tip:
Reorder module will save valuable time when repeating similar orders with Best Free POS apps.
Return and Exchange
Quickly return or exchange any product from any POS machine/cash machine/cash register with Sivib POS billing software.
Refund the selected item or all items on the receipt. Provide manual refunds, with ability to edit amount refunded.
You can choose to refund reward points for an item which a customer returns.
Track returns
Easy recording and tracking of returned goods from your customers.
Generate the updated invoice indicating the returned product and get updated inventory instantly.
Process refunds for payments made on order.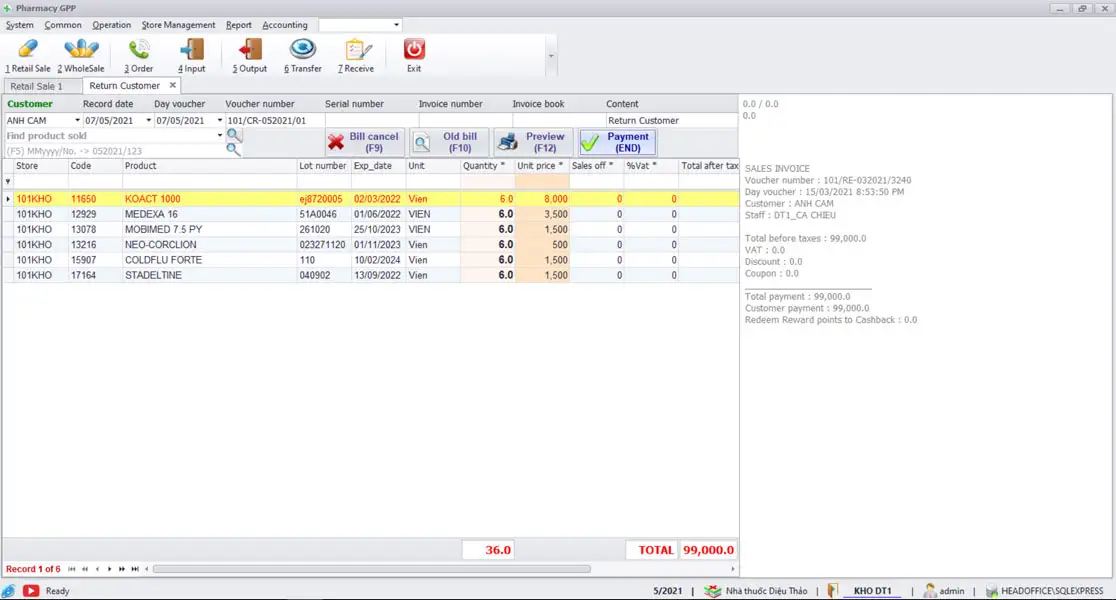 Sessions management
Provide specific information for each session of the wholesale and retail outlet by the point of sale name, person in charge, etc.
Control all the cash flow and sales inside of session.
Keep track of which employees process each order.
Analyze orders in sale sessions by payment method (Cash, Bank, Rewards Points, integrated, etc.)
Keep track of number of sales orders, daily sales targets with instantly updated data.
Rounding-off Method
Best Free POS Billing Software even takes care of the minute details, leaving you with no doubt while using the software. You can select how you want to round off the price that appears in decimal number.
Managing invoices
With POS system/billing software of Best Free POS Software, you'll never lose track of invoices.
Invoices are completely customizable, making managing payment documents easier for you and your customers.
Every invoice created with best free POS billing machine software is permanently stored in the back office as a searchable record. Invoices can be tracked through every stage: Unpaid, Prepaid, Paid-in-full, and Delivered.
Invoices can be updated at any stage in case items ordered need to be modified or if payment information needs to be updated.
Benefits of bills and invoices with QR codes
QR code is mandatory in the e-invoice generated by applicable businesses.
No special configuration is required, and no installation. Only use it.
Works for both printed and electronic bills and invoices.
By integrating QR codes into your customer's bills and invoices, you can quickly find and track information about a particular invoice without retrieving such information from an external source.
See more about What is QR code?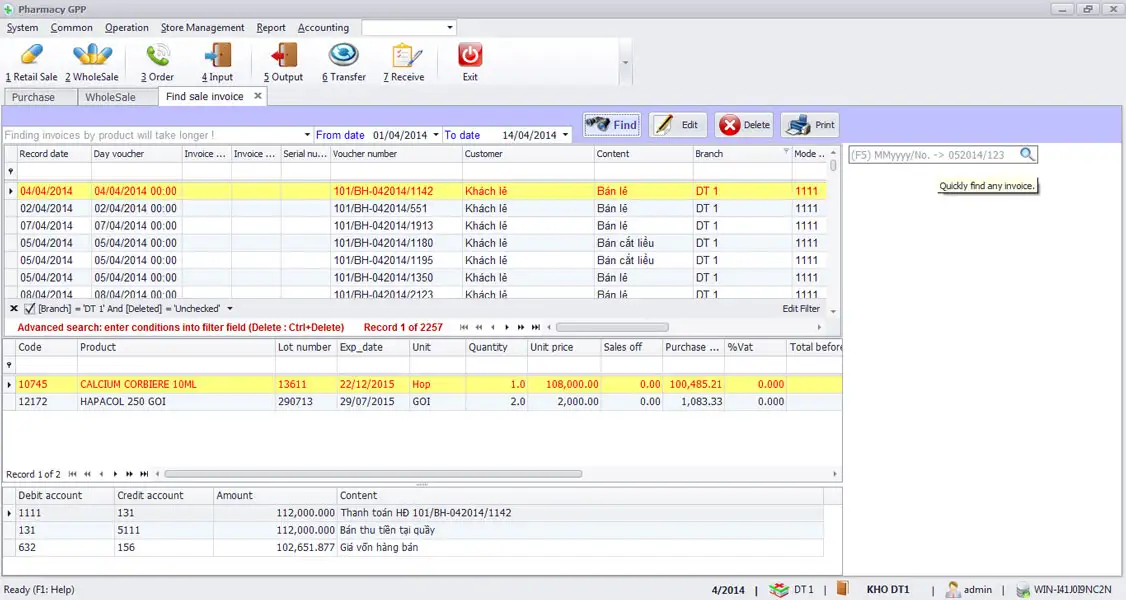 Update data instantly
Data and information from POS machine/cash machine/cash register are synced with back-end office in real-time.
Any changes in back-end office can also be immediately reflected at POS level.
Auto-synced data includes Sales, Purchases, Pricing Policy, Inventory, Employees, Vendors, Customers, Products, etc.
Instantly update Customer Loyalty program, Promotions, Discounts, Coupons, and Gift cards.
Tip:
When you select a product, Best Free POS system shows its complete detail. For example, their expiry date, lot number, packaging, wholesale and retail price, and the stock available in your inventory.
Offline Sales
Best Free POS billing software allows you to continue to make sales and work with shifts even when the internet goes down.
Free online and offline POS software is a feature that keeps your business sailing smoothly even when the internet is suddenly down.
When the internet is reconnected, all data is synchronized immediately, and you wouldn't notice any difference.
Lean more about POS integration API in Sivib POS Software
Generate invoices / Custom Receipts
Best Free POS Billing Software has a very simple and intuitive invoicing interface in which you can now generate professional invoices along with your personalized logo and make an impact on your customers.
Choose a printable receipt template from our POS or customize it with additional details like your logo, brand, contact information, barcode/QRCode, images, add line item or order notes to the receipt, etc.
Compatible with different printers and paper styles: regular and thermal printer; A4 and letter paper size, different thermal paper roll widths.
Customize the footers for both your customer receipts and customer bills.
Customize the receipt language.
Best Free POS Billing Software allows you to print receipts at the physical store or send SMS and email e-receipts to customers.
Professional Invoice + Clear Calculations = Trust + Better Customer Relationship
Best free POS Billing Software for Wholesalers and Retailers
Our solution provides all of the tools that you need to run a successful retail and wholesale chain.
Get Started
Set invoice printing information – Best Free POS Billing Software

Managing invoices / Find sales invoice – Best free POS Billing Software for small business

What would you add as the #12 feature to improve efficiency of Best Free POS Billing Software System? Let me know in the comments below!