Discover ways Multi-Store Management Software can run, scale and grow your business
Operating and managing multi-stores is complex and challenging. While the operational aspects of these stores may not seem so different from a single store's operations when examined individually, but when observed as a whole, their scale and variability require a unique management approach.

How can you efficiently manage a multi-store structure? Managing sales, promotions, inventory, staff, time and keeping operations running smoothly for all stores can be demanding. Managers must also find solutions to keep operating costs low, customers satisfied, and improve profitability. Proper multi-store management offers many business benefits that improve efficiency and consistency across all store locations without needing to spend valuable time and resources manually updating each store.

You need a POS system that is specially designed to handle multiple stores easily. Manage your entire retail and

wholesale chain

with

Multi-Store Management Software Solution

|

Sivib POS Software

– Links your remote locations to your headquarters and allows for operations to be centrally managed for consistency and better visibility across your chain stores. Unified, detailed reporting gives access to comprehensive data for better forecasting and management of all locations rather than each individual store, providing more growth opportunities and a better ROI.
Establish A Clear Standard Operating Procedure
Establish a standard across all store locations. These stores become more productive as a whole.
For instance, by establishing a standard protocol for chain stores, the enterprise ensures customers receive the same experience no matter which location they visit by linking their chain store with Multi-store management software solution through Sivib POS Software.
In addition to standard procedures like payments and returns, customers will expect their loyalty programs and promotions to be uniform across stores. Allowing customers to use and access their loyalty program at any location will create a better overall customer experience and increase ROI.
For instance, establish a training program; when employees are trained with the same plan consistently, they can work together more efficiently and boost company performance.
Collect employee data that be used to optimize job roles so managers can focus on talent management. Identifying the strengths and weaknesses of each branch to optimize human resources and ensure operations are efficient. Utilizing this employee data allows enterprises to keep staff motivated and engaged by using that data to provide raises and promotions.
Lastly, when all practices are uniform across a chain store, it is easier for supervisors to work together and manage inventory. Transferring inventory between stores to keep supplies available for customers is just another way of establishing standard operating procedures that can benefit a business.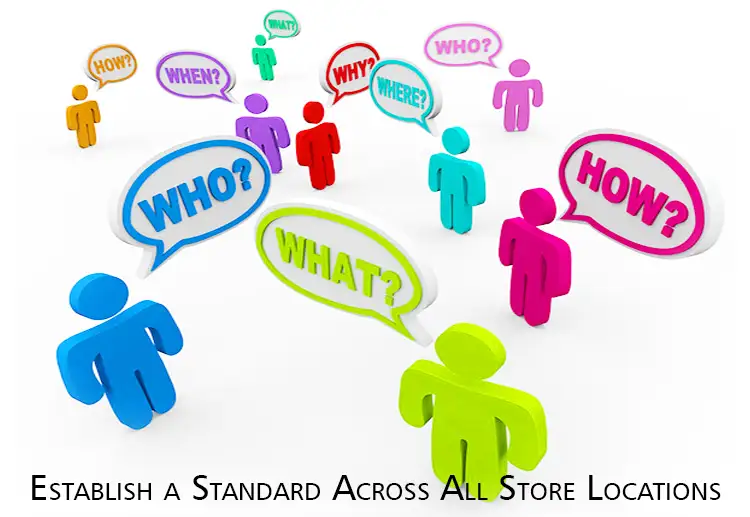 Establish Communication Across the Enterprise
When managers use a network-wide communication system, they can reach employees at every site – help provide staff with frequent tips and reminders for everyday solutions and any policy updates, providing teams with the tools they need for optimal performance, especially when the communication platform announces changes in products, services, and procedures. Ensuring the news gets out quickly mitigates potential downtimes, losses, and dissatisfied customers.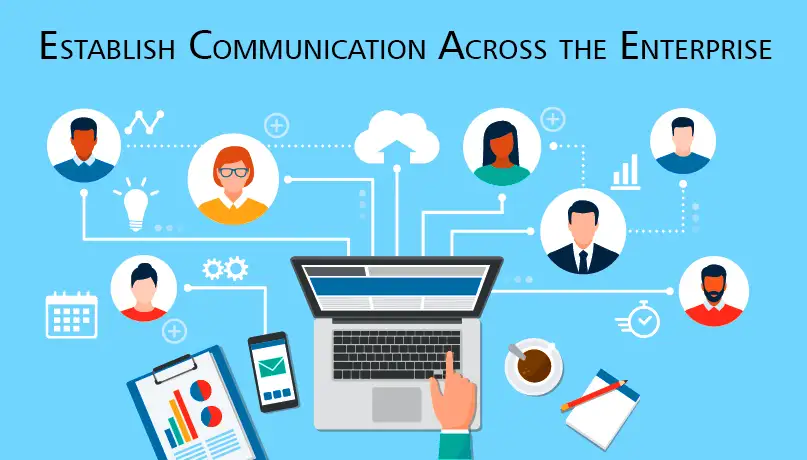 Optimize Multi-Store Inventory Management System
Many enterprises struggle with managing inventory at multiple locations. As stores experience fluctuations in product popularity, many regional managers find that what sells at one store may not be as popular at another.
Multi-store management software system makes it easy to facilitate inter-store transfers. Allowing managers to split inventory between a fully stocked store and an additional location may experience low inventory levels awaiting a new order from suppliers. Reports for stock movement between stores.
Access sales reports, inventory reports and data for the entire chain allows managers to optimize pricing at different locations based on demographics and product demand.
Tracking can make it easier to manage stock levels and forecast sales and revenue across the entire business efficiently and quickly.
Consistent Customer Service and Loyalty Programs
When enterprises link multiple stores through Sivib's Multi-Store Management Software Solution, one of the benefits of standardizing practices across numerous stores is implementing a loyalty program and consistent customer service.
When enterprises utilize a loyalty program and promotions over multiple stores, they can analyze data to understand better what products and services are needed in specific locations. As customers sign up for rewards, promotions and loyalty programs and utilize the service, their purchases can be tracked at any store and managed through the company's headquarters.
Customers enjoy their shopping experience more, 

and your store has more sales opportunities

. As a result, customers are encouraged to shop at any of your brand's locations, not just their local store or online.
Unified Reporting and Analytics
Reports provide managers with more accurate information to help with company forecasting and planning, creating more opportunities for managers to find ways to cut costs and reduce downtime.
Reports also provide enterprises with valuable insights into customers' demographics, geographical locations, and psychographics. Managers can make better business decisions when adjusting marketing, pricing, and procedures.
View overall company statistics and compare each location accordingly, managers can identify issues such as bottlenecks at specific sites and adjust their strategies accordingly.
Compare which is the most sold item out of all the items for different stores. It is also possible to identify the top categories.
Sivib Software –

One Management Solution

 to operate multiple stores
Growth
Grow your business from one to hundreds of stores.
Expand your business with ease just by adding new outlets whenever you need it in just one click.
Manage items, employees and customers across multiple locations in one place.
Control over products, pricing and promos across all stores.
You can set different currencies and time zones according to which they work.
Multi-store management software free allows you to set a separate price list for a store.
Compare the performance of your chain stores. Continuously grow to a powerful chain by analyzing and multiplying the best practices for each outlet.
You require no special assistance from us, no tech that has to come out and install a disc. Download and install Sivib POS Software to a device, and you're ready to start selling.
Tip:
Discover more point-of-sales features useful for multi-location stores.

Multi-store Inventory Management System
Manage your inventory for all stores from anywhere in real-time.
Track and allow managers to set minimum and maximum quantities to have in inventory for the whole network or for their own stores.
Transfer items between stores.
Add your items to all your outlets from anywhere.
Set different prices for different stores to find the best pricing strategy.
Create business-wide promotions or assign price lists to certain locations.
A cashier has access to view the stock of different stores and give information to the customers.
Tip:
Manage real-time inventory, expiry schedules, fast-selling & slow-selling stocks, and damaged stock with Best Free Inventory Management Software.

Stock Transfer Management
Using Multi-Store Management Software, you update the products transferred from one inventory to another.

Tracking the inventory transfer details will never put you into a mess with free warehouse management system.
Easily create a transfer order between your stores.
You can add items from the list of your items to the transfer order. You will see the stock information of the chosen items at the source and destination stores. The received order will change the stock in the source and destination stores.
When one store sends stock to another store, the other store needs to approve the incoming stock. If there is any stock transferred to the store, but the store manager forgets to approve it, Sivib's Inventory management app free will show a warning message: Currently, there is an Order for the transfer to confirm.
View reporting on all store transfers of items.
Tip:
Allow you to manage multiple warehouses. Track inventory movement, verify physical stocks, and easily adjust stock with Multi-store Inventory management software free.
Better Pricing Lists
Multi-store retail management software allows control of all the prices centrally and pushes price lists to stores in the network. The stores that receive the list pricing can accept all changes or adjust prices to their local market.
Control over products, pricing, and promotions across all stores.
Set different quotation price lists for the items in other stores to find the best pricing strategy.
Create business-wide promotions or assign pricing lists to specific locations.
Sivib POS Software helps you roll out various kinds of promotions and track their success at different store locations.
Tip:
Make your chain stores more attractive to customers by creating amount and percentage-based discounts and promotions.
Tracking Sales
Allows you to centralize and harmonize sale tracking with one powerful system.
You can compare which is the most sold item out of all the items for different stores.
Track the data in real time, you can make quick decisions based on what's happening with your sales.
Tracking sales metrics gives you a clear view of what's stopped working, and you'll have time to change your process before the problem becomes critical.
Track customer behavior and other related metrics, you'll know what to give more personalized offerings to your customers.
Helps you build a clear path to your goals.
Customer Care
Manage a consolidated customer base from all of your outlets in one place.
Use the same rewarding system across all of your chain stores.
Reward regular purchasing customers from any location.
Deliver Consistent Customer Service and Loyalty Programs.
See purchase history of your customers to know them better.
Add new customers with one click from any POS or the Back Office.
Tip:
Manage your loyalty points and membership cards with ease with Multi-store management software free.

Tracking Employees
Track the employees' performance across all of your chain stores.
Set up the access of your workers only to certain stores and needed functionality.
Check the employee performance and reward them accordingly.
Control your employees' working hours and use this data to pay them.
Find out the busiest hours across all stores and manage to cover them with needed human resources.
Reporting Analytics Tool
Multi-store management software free allows head office and/or stores to access store reports.
Check all essential performance indicators of your chain stores in real-time and make balanced decisions.
Get an overview of the entire operations across all of your outlets.
Compare your outlets' performance and set growth benchmarks for each store of your chain.
Check the important parameters in different stores, such as gross sales, net sales, gross profit, etc.
See the best-selling products and expand your product line with the most-selling items.
At the end of the day, you can keep track of all the expenses in your business and evaluate their contribution to the value of your network.
Learn more about Reporting and Analytics Tool
Tip:
Sivib POS Software – Automated, instant, visualized reporting system to manage the chain stores more effectively.

Manage your business remotely
Sivib POS Software helps you to manage your chain stores from anywhere with the help of a smartphone or tablet: track sales, stock, purchases, transfers, and all business activities in real-time.
Learn more about Manage your remote business
Learn more about Sell online on your eCommerce website integrated with Sivib POS Software

Control end-to-end Multi-Store Management Software Solution
Our solution provides all of the tools that you need to run a successful retail and wholesale chain.
Get Started
Transfer Goods Between Warehouse in Free Multi-store inventory management software
If you have any questions about Multi-Store Management Software Solution or suggestions for improvement to existing features. Let us know in the comment below!